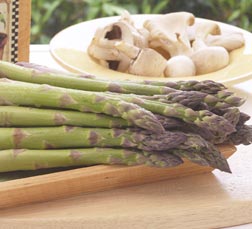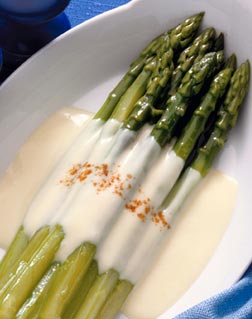 Asparagus Recipes
Asparagus & Hollandaise Sauce
serves 4
Ingredients
500g Asparagus
½ cup Butter
3 large Egg Yolks
1 tbsp plus 1 tsp Lemon Juice
Pinch Salt
2 tbsp Water
Chopped fresh parsley (optional)
Method
Heat the butter in a heavy bottomed saucepan until hot and bubbling but not brown.
In a small bowl beat the egg yolks together with the lemon juice and a pinch of salt.
Remove the butter from the heat and along with 2 tablespoons of water gradually beat into the egg mixture.
Return the mixture to the saucepan and beat over a low heat until mixture becomes slightly thickened. Once at the desired consistency, pour into a bowl and let stand over hot water until serving.
Trim any woody ends from the asparagus and cook in a pan of lightly salted water until crisp tender. Once cooked, remove from the pan and serve immediately with a drizzle of the hollandaise.
Sprinkle with chopped fresh parsley if desired.