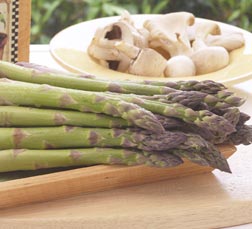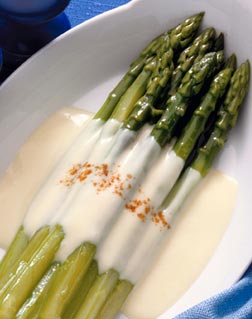 Asparagus Recipes
Asparagus, Bacon and Mushroom Medley
Serves 4
Ingredients
2 bunches Asparagus, thin spears are best
6 rashers Smoked Bacon, cut into strips
300g Mushrooms, sliced
1 clove garlic, crushed
Method
Wash asparagus and trim woody ends then slice on an angle into 4cm/1.5" pieces.
In a large frying pan, gently fry the bacon until crispy, remove from the pan and set aside.
Add the asparagus and garlic to the bacon juices and fry for 4-5 minutes over a medium heat. Add the mushrooms and cook for further 4-5 minutes.
Add the cooked bacon to the asparagus mixture and combine. Cook until asparagus tender and mushrooms cooked through.
Remove from pan and serve in a warm dish.